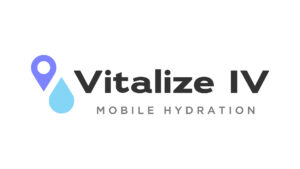 Welcome to Vitalize IV Therapy!

Pick Your Drip. We Come to You!

Drips
Party Prep/Hangover Drip
Was it a GOOD night or are you planning one? We can help! Rehydrate with fluids, vitamins, anti-nausea, anti-inflammatory meds…provides relief fast!
$189
Add Glutathione to aid your liver in processing acetaldehyde, a byproduct of alcohol.
$20
Immunity Drip
Do you feel a cold or the flu coming on? This drip will reduce oxidative stress, protect against free radicals, boost your immune system and more.
$229
Energy Drip
Ditch that coffee for this drip! Increase your stamina and energy, boost mitochondrial energy, help the body break down fats, carbs, and proteins, and boost the thyroid.
$189
Athlete's Drip
For recovery after a grueling event, tough race, or killer workout. This drip can also be beneficial prior to a long endurance event such as a marathon or triathlon. Recover or prepare for extreme exercise like the pros. Great for reducing inflammation and joint pain.
$189
Migraine Recovery Drip
For migraine headache sufferers who don't want to sit in the Emergency Room. This is the same formula used in many ERs, excluding narcotics. Please note we do not treat first time migraines or "worst headache of my life†scenarios.
$189
Beauty Drip
Do you have a big event coming up or just looking to aid your beauty routine? Get the ultimate beauty boost from the inside out with this perfect blend of hydration, high-dose glutathione, biotin and multi-trace elements. 100% vitamin and antioxidant absorption to keep your hair, skin, and nails looking pristine.
$209
Premium Drip
This drip has it all! It decreases inflammation, speeds up healing, boost the immune system, supports detoxification, and increases energy levels. This is also a great drip for athletes.
$249
Myer's Drip
This is the drip that started it all. Named after the John Myers a physician who used intravenous vitamins to enhance the immune system, and treat fatigue, seasonal allergies, fibromyalgia and asthma in addition to many other acute and chronic illnesses.
$179
Weight Management Drip
This drip will aid you in your weight loss journey by helping balance your blood sugar levels, increasing your metabolism, and increase the conversion of fat into energy.
$189Â
Add Ons
Injections:Â B12 $25 MIC B12 (Skinny Shot) $30 Vitamin D $30 Toradol $30 Glutathione $30
Add to infusion: Zofran, Toradol, Glutathione, Vitamin C all $20
Ugrade any drip to 1000ml bag for $20Â